Teaching
Our chess club warmly welcomes every ability and every age group, and strives to foster a love of chess in them for life. We aim to give them not just the skills to play, but the skills to lose, to cope with disappointment, to commiserate and congratulate, to find ambition to succeed for themselves as well as to take part nicely within a team, to share their chess knowledge through mentoring as they progress, to develop strong skills in planning ahead and have confidence in their choices. In any term, each child will play many different opponents, notate the solutions to many different puzzles, and will receive interactive teaching on different topics. There are many motivational mini prizes for many reasons. All children are recognised for the strengths they bring. They learn to contribute their ideas, strategy, and plans without fear of ridicule.
ChessMates and all the chess children at Hampton Hill are proud to have received a 2020 British Chess Educational Trust award. This annual award is given to schools that have shown outstanding achievements or enthusiasm in chess.
The school received an engraved wooden chess board, along with a fine set of Staunton chess pieces, and a chess clock.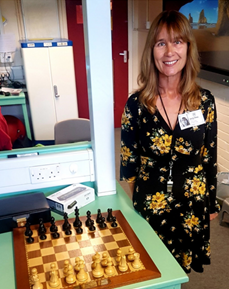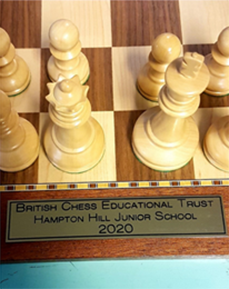 Teaching during the Covid months had to change, and over the summer of 2020 ChessMates launched an on-line chess club. We enjoyed a summer holiday club, and this Autumn are continuing on-line chess during term time. We have also returned to school too, teaching over the board chess with reduced numbers and careful hygiene procedures.
We have continued and developed a thriving set of on-line chess clubs during the lockdown period, competing in inter school tournaments and welcoming players from Hampton Hill between the ages of 7 and 18. The older players compete in the prestigious Five Counties league where we have an A and B team in division 3. These on-line clubs are now firmly established and will continue post lockdown. We discovered on-line chess is exciting!
Our on-line activities include not only activities for the older children and intermediate children, but we have also welcomed beginners. During Spring 2021 ChessMates ran 'learn to play chess from scratch' courses with children progressing to join the on-line club if they wish.
Please see some of our instructional videos which can be found at our Youtube channel at https://www.youtube.com/channel/UCJYkuXuZPpWSJ8cB45i1LZg.
During the Summer 2020 term the HHJS club children followed these videos to create a booklet of checkmate in one puzzles.
We have embedded two of the videos below:-
Part 1
How To Make A Check Mate In One Move Puzzle
Part 2
How To Make A Check Mate In One Move Puzzle